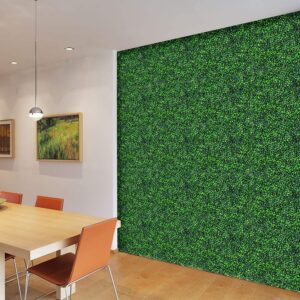 Transform an unattractive interior or exterior wall with artificial grass and leaves. It gives the appearance of a living wall but does not need the maintenance of real grass. With an artificial grass wall, maintenance is a matter of brushing or using a blower and it doesn't matter if you forget to water because it is not necessary. Having what appears to be a living wall all year round is a fabulous design feature. An artificial grass wall will liven up any space.
For those who live in a small space, such as a condo or an apartment, it's a great way to add some color to a white wall without the need to prep and paint. It works great on a balcony for the look and feels of a real lawn. Just set up a BBQ and a couple of chairs to create a beautiful outdoor area to host your guests.
You can accompany your design with a beautiful indoor or outdoor area rug, a table for a summer party, or placemats for a spring holiday event. It's a great decorating material that can be both chic and fun for the kids.
You can install artificial grass on most surfaces and easily use nails to secure the edges
Artificial grass comes in a variety of colors (Shades of green) and sizes. You are only limited by your imagination when decorating an artificial grass vertical wall. The options can be endless and fashionable. Use it to create a unique permanent or removable surface indoors or outdoors.
We can help you choose the right style for your next project.
AMERICARPET
364 NE 167 ST MIAMI, FL 33132
Contact us at 305 945 2973 – 305 978 2973