Artificial grass is a human-made product that resembles real turf. Over the last decade, the appearance and feel of artificial grass progressed from the less-then-naturally looking Astroturf to a lush and beautiful green that perfectly imitates its natural counterpart to the tiny detail. The synthetic fibers are gentle to the touch, vibrant in appearance, long-lasting, and weather-proof. Artificial grass elevates the look of any landscape or hardscape, eliminates maintenance costs along with providing an ecologically sound alternative to a chemically treated lawn.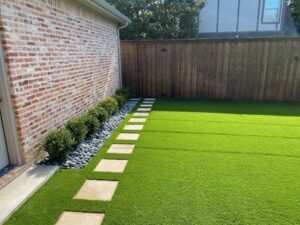 Environmental Benefits
The installation of artificial grass in residential and commercial applications is becoming more and more popular. The integration of synthetic turf into urban landscapes reduces the harm introduced by the use of pesticides & fertilizers, Plus, it also reduces gas and electricity usage by gas or electric lawnmowers.
TCool Infill for Dry and Hot climates.
TCool is a new technology, with a sand shape and consistency, that prevents Artificial grass surfaces from overheating. This new feature for artificial grass is tested and reliable Keeping the temperature of turf fibers down up to 50 Degrees.
Artificial Grass Costs
Artificial grass is a long-term investment, highly cost-effective in various ways. It remains in prime condition without any damage, fade, or decay. If you calculate the monthly amount you pay for the maintenance of a natural lawn, you realize that artificial grass starts to pay back in less than two years after installation. There is no trimming, fertilizing, or mowing.
Residential and commercial property owners are starting to realize that installing synthetic grass is a smart option that gets you financial benefits.
Americarpet offers a wide variety of artificial, synthetic, and turfgrass, come to our showroom and we will help you find the artificial grass that best adapts to your property.
AMERICARPET
364 NE 167 ST | MIAMI, FL 33162
305 945 2973 | 305 978 2973