There are three methods used to install hardwood floors. Let's see each of them:
Staple or Nail Installation – This method applies only to solid floors. This process involves nailing the wood floor directly to a wood subfloor. The flooring is nailed through a portion of the wooden board that protrudes and fits into the adjacent wooden board.
It is important to note that this method is not recommended for the basement level of a home, however, it is perfectly good for the ground floor or second floor.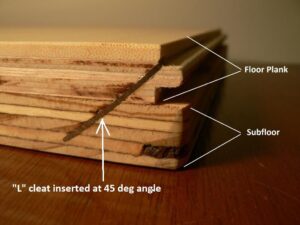 Glue Down – With the gluing method, installers use adhesives to adhere to the hardwood planks to the subfloor, this creates a bond between the hardwood floor and the subfloor. A positive feature of this method is that the elastic quality of the glue allows floors to expand and contract naturally with the seasons and with a high-quality adhesive, it could add moisture and sound insulation benefits.
This installation method can be used on the basement level of a home, on the ground floor, and on the second floor.