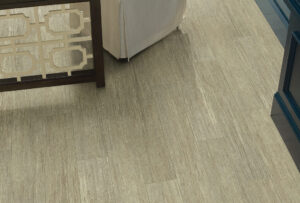 A luxury vinyl tile (LVT) is currently one of the most popular flooring options, so today we share some effective tips for the proper maintenance of your new LVT.
Your new flooring is a significant investment, and you want to keep it looking great for as long as possible. Without a proper maintenance schedule in place, you run the risk of appearance degradation, caused by dust and dirt, foot traffic, and staining.
The maintenance requirements for luxury vinyl tile are much less labor-intensive than most of the other hard surface floors in the market.
All types of flooring will have regular, ongoing maintenance requirements, to remove spills and prevent staining, as well as to prevent the build-up of dirt and dust. For Luxury Vinyl Tile regular maintenance involves sweeping and mopping, to remove dust and dirt. You can use the following guidelines for how often you should clean your LVT:
Hight Traffic areas – sweep or vacuum daily.
Medium traffic – Sweep or vacuum two or three times a week.
Low traffic areas – sweep or vacuum once or twice a week.
Applies to all types of traffic – Mop with water and cleaner at least once a week
LVT has a protective wear layer, it does not need regular waxing and polishing like Vinyl Composite Tile (VCT) Does.
Americarpet partners with the best and most luxurious manufacturers of Luxury Vinyl Tile floors such as Duchateau, Provenza, Shaw, Mohawk, Bella Flooring, Armstrong, Coretec, and many more!
Americarpet Inc
364 NE 167 ST Miami, FL 33162
305 945 2973 / 305 978 2973
sales@americarpetfloors.com