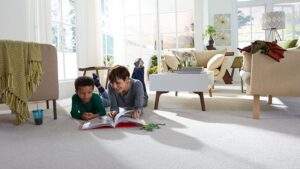 If you have carpet in an area with potentially high humidity, there are a few simple measures you can take to prevent mold growth.
A scientific study sponsored by the Carpet and Rug Institute (CRI) has provided a more complete view of how mol grows in carpeting and how to avoid the problem.
Carpets in various conditions (New, old, dirty, and clean) were subjected to various levels of humidity. Researchers wanted to see if high humidity (defined as 80 percent or more) provided mold with an incubator in carpeting. What they found was that dirt, more than humidity, contributed to mold growth. Carpets that were heavily or even lightly soiled, bred far more mold than clean carpets when subjected to the same levels of moisture. Simply put, high humidity plus dirt equals mold.
4 Tips to prevent carpet mold:
Keep humidity low.
The humidity of 65 percent or lower tends to be the perfect level for maintaining a mold-free carpet. You can lower humidity in a contained area by running a portable dehumidifier or providing airflow by leaving windows and doors open as needed (don't open the windows if outdoor humidity is high).
Keep temperatures low.
Temperatures of 80 F and higher can contribute to mold growth in the carpet. Portable or central air conditioning can help with both temperature and moisture because it lowers humidity as it cools the air.
Keep your carpet clean.
While there is no official definition of "clean," it is recommended to vacuum a carpet weekly to help prevent mold growth.
Install synthetic carpet materials.
Organic carpet materials such as wool are more prone to mold growth than inorganic or synthetic carpeting such as nylon or olefin.
Americarpet
364 NE 167 ST MIAMI, FL 33162
edgar@americarpetfloors.com | ashley@americarpetfloors.com | americarpet@aol.com
305 945 2973 | 305 978 2973