Loose lay vinyl planks have come to be a popular variety of vinyl plank flooring which is mostly known for its installation.
One thing that stands out about the Loose Lay Vinyl is that does not rely on any adhesive or even tongue and groove mechanism as the click system or Click Lock to hold themselves in place.
Back of a Loose Lay Plank
These thick vinyl rectangles simply lay in position on a floor and remain there once installed. Loose lay vinyl flooring goes down quickly, and it relies on friction to remain in place over time.
Loose vinyl flooring can be installed over existing floors very quickly and is ideal for floors that have unevenness, and that carpet or LVT tiles cannot go.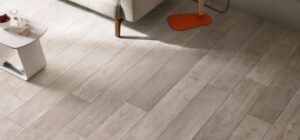 Other important characteristics of the Loose Lay Floor are:
Simple Installation: You do not need to use any kind of glue, staple, or click-lock system to install this flooring. Instead, this flooring's back uses friction to get a grip of the subfloor beneath it.
Will not Expand or Contract: The material is designed to resist any expansion or contraction, which means that you can count on the width of the flooring remaining the same.
High Durability: They will hold up for years without trouble as long as you care for them properly.
Available in A Wide Variety of Looks: There are so many different options for you to pick and choose from when it comes to colors and styles that it is simple to find something that you like.
Loose lay vinyl flooring can make a great addition to your home or business, we have the latest styles and colors available to see in our showroom.
Americarpet
364 NE 167th ST Miami, FL 33162
305 945 2973 | 305 978 2973
sales@americarpetfloors.com